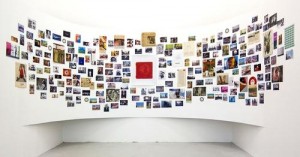 Unprecedented in France, the Ticket Mécène® operation launched by the CAPC contemporary art museum of Bordeaux is a campaign of mobilization for the enrichment of public collections. The CAPC's visitors are invited to become benefactors of the collection, establishing a direct link between the citizen and the museum.
Unique in France, this system integrates the new ideas of "crowd funding" in the artistic sphere and adds to the usual process of acquisitions and enrichment of collections.
It allows the public at large to get directly involved in the life of a collection.
The CAPC proposes a special additional contribution of a minimum of 3€, with the entrance ticket to the museum.
With Ticket Mécène, the visitor leaves with a symbolic piece of the artwork and becomes the generous benefactor of the CAPC. The visual of the artwork is made up of a "magnet puzzle" poster. Each visitor-contributor is given a piece of the magnet, that is to say a "piece of the work" that he may choose.
Each donor is kept informed of the operation by email (overtaking of symbolic thresholds, finalisation of the campaign, rendez-vous). At the end of the campaign, all the donors, big and small, are invited to the presentation of the artwork at the museum, with a moment of conviviality, a conference, a presentation by the artist, a drink, etc.
In collaboration with the Friends of the CAPC who match every euro given by the public, the donation is multiplied by two.
This artwork, purchased from the Bordeaux gallery Cortex Athletico, supports the cultural actors of the territory.
Download the press dossier for the Ticket Mécène operation here 
More information here