2014 // Franz Erhard Walther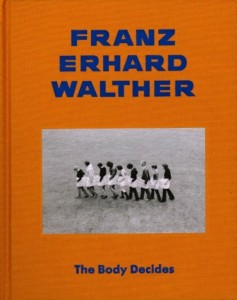 Franz Erhard Walther's exhibition offers an in-depth look at an influential German artist whose pioneering work straddles minimalist sculpture, conceptual art, abstract painting, and performance all while positing fundamental questions about the conventional idea of the artwork as an immutable, obdurate pedestalor wall-bound thing. Bringing together pivotal works made between the 1950s and the present, this exhibition focuses on Walther's ability to transform notions of objecthood and perception through drawings, paintings, fabric sculptures, participatory forms, languagebased works, photographic documentation and archival material.
More information here 
2014 // Tomoaki Suzuki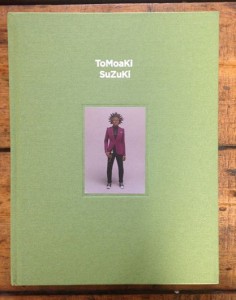 Published at the same time as his stupefying half-survey in the nave of the CAPC contemporary art museum of Bordeaux (5 April – 1 June 2014), this first monography devoted to the work of Japanese artist Tomoaki Suzuki looks at his sculptural work in all its uniqueness and details, that 2 texts and an interview put into perspective at a time of immediate ageing of urban signs and the "ordinary singularity"  of social networks.
More information here 
2013 // SIGMA journal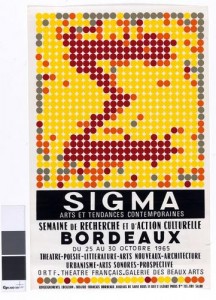 Between 1965 and 1995, the SIGMA Festival turned Bordeaux into a pivotal meeting-place for cultural avant-gardes and utopias in Europe. In France,  it spread the word about some of the most prominent figures in the American counter culture (the Living Theater, Bread & Puppet, the Barbwire Theater) and its counterpart in Europe (Arrabal, the Grand Magic Circus); it popularized the works of Silvano Bussoti, Webern, Varese, Xenakis, Sun Ra and Pierre Henry, and it got happenings (Jean-Jacques Lebel) and kinetic art (Nicolas Schöffer) to tub shoulders, not to mention Mondrian and the Pink Floyd. Television, design, ecology and cybernetics were all treated in exhibitions and lectures.
Every year Bordeaux became the forum for "research in all the arts", and found itself at the hub of media attention for a whole week. Devised on the basis of and with the archives of its founder, Roger Lafosse, this exhibition revisits the magnetic aspect of this most colourful festival, which marked the city's cultural history, its time and the recent history of festivals.
Invited critic: Patricia Brignone
Project designed in collaboration with the Municipal Archives of the City of Bordeaux.
More information here
2013 // Markus Schinwald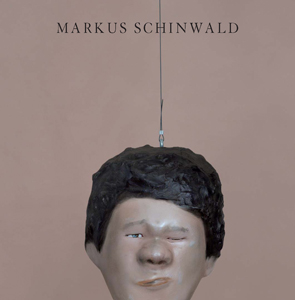 After having transformed the entire nave of the CAPC into a mechanical theatre, Markus Schinwald imagined a sophisticated and elegant artist's book that shows the physical and mental adventure, thanks to preparatory engravings, film dialogues and stickers inserted in an envelope (to be put by oneself on the pages of the book), alternating exhibition views and reproductions of Schinwald's works.
More information here
2012 // Michael Krebber, Les Escargots Ridiculisés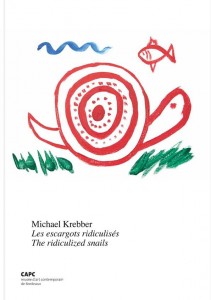 Michael Krebber is considered today to be one of the most important personalities of the contemporary international artistic scene.
Playing a major role in the art scene in Cologne since the eighties and nineties, Michael Krebber has a conceptual approach to painting that he explores beyond pictural conventions. His practice is full of ambivalence, subversion, intransigence and feigned gesture. Krebber is a dandy painter.
2012 // History of the CAPC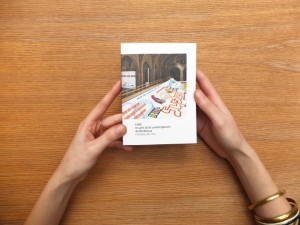 Forty years of the CAPC brought together in less than 100 pages, or a concentrate of contemporary art and cultural Bordeaux history.
This is what can be said of this book that looks at the important moments of this essential artistic venue in Bordeaux. The events are organised chronologically, in order to give the reader a complete view of the museum's evolution, without however sticking to a purely historical aspect. In the course of the widely illustrated pages, one can get to know the key personnalities that contributed to the development of the CAPC and discover images of past exhibitions that built the structure's prestige.
2011 // Dystopia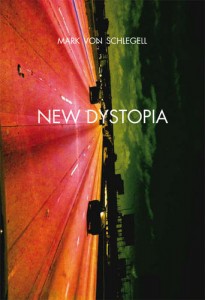 An exhibition novel initiated by Alexis Vaillant
2011. A kulturnaut, a squid, a Shakespeare, a dog, an abstract artist, a chrononaut, a washerwoman, Tom Ripley and his bones go through New Dystopia. Their accelerated speculations lead to new models of deterritorialised life. Visionary and hallucinated models. Through them, Mark von Schlegell "exhibits" some aspects of the invisible catastrophe that breaks our world and to which the artists reply. Written in the backstage of the Dystopia exhibition at the CAPC contemporary art museum of Bordeaux, this illustrated novel asks the question of possible futures in the shape of a critical fiction. After Venusia (2005) and Mercury Station (2009), both published with Semiotext(e), New Dystopia is Mark von Schlegell's third novel.
2010 // BigMinis Book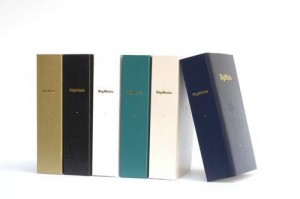 Published by CAPC and Sternberg Press, the BigMinisBook catalogue follows the exhibition BigMinis. Fetishes of crisis. As a real laboratory of ideas on all things mini, this books that holds in the palm of a hand proposes to explore the singular fascination that the reduced object has at a time of recession. Created with 6 different covers (black, green, gold, pink, white and blue), there is no doubt that this mini catalogue will also become a fetish object.
More information here
2009 // Heimo Zobernig catalogue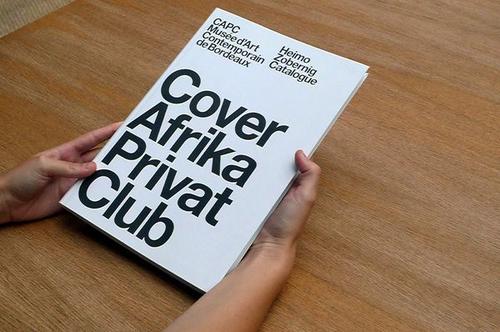 Catalogue offers an oblique journey through the multi-facetted oeuvre of Heimo Zobernig from his early works in the late 1970s to the most recent pieces.  It brings together a selection of projects undertaken by the artist around notions of theatricality and display which echo his relational and stage systems.  Designed by the Dutch designers Experimental Jetset, this book brings together a choice of historical texts translated for the first time, as well as new essays.
More information here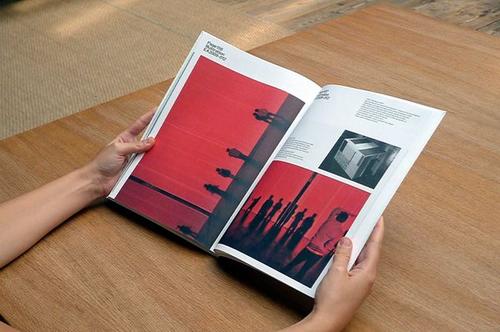 2004 // A Angles Vifs and Thomas Struth exhibitions + History of the warehouse
Publication of guide books for the exhibitions A Angles Vifs and Thomas Struth.
Download here the complete list of CAPC exhibitions
Publication of a document on the history of the building (the colonial warehouse), in French and in English
Discover the history of the Lainé Warehouse here