Following the success of the charity Banquet organised at the end of September 2013, the Friends of the CAPC purchased two works by the German artist Michael Krebber, to donate to the CAPC's collection. The benefits of the event largely contributed to this acquisition.
Michael Krebber is considered today to be one of the most influential personnalities of the contemporary international artistic scene. He had a personal exhibition in the nave of the CAPC contemporary art museum, from November 2012 to February 2013.
These two artworks donated by the Friends of the CAPC allow the museum's collection to be considerable enriched with the work of an artist that is new to French public collections.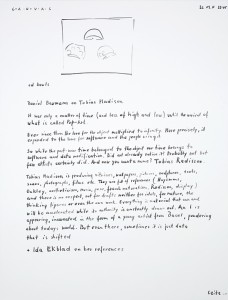 Michael Krebber
C-A-N-V-A-S Painting 5
2011
Acrylic on linen

139.7 x 106.7 cm 
Collection of the CAPC musée d'art contemporain de Bordeaux
Courtesy Gallery Greene Naftali, New York
Donation of the Friends of the CAPC in 2013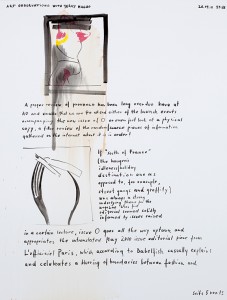 Michael Krebber
Jerry Magoo Painting 3
2011
Acrylic on linen

139.7 x 106.7 cm 
Collection of the CAPC musée d'art contemporain de Bordeaux
Courtesy Gallery Greene Naftali, New York
Donation of the Friends of the CAPC in 2013