Montezuma's Revenge was part of the important exhibition Jim Shaw, Left Behind, that was held at the CAPC from May to September 2010. This exhibition welcomed more than 60.000 visitors, a record.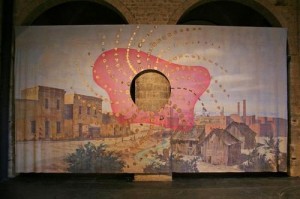 A celebrated personnality of the Californian artistic scene, Jim Shaw whares with Paul McCarthy and Mike Kelley the same desire to produce visual art that looks to explore the dark side of the conservative and standardized American society.
Jim Shaw takes his inspiration from vernacular culture beyond the categories established by History of art: amateur paintings found in second-hand shops, objects of popular culture, comic books, rock music, second-rate films, etc.
Montezuma's Revenge is a monumental painting whose extraordinary dimensions (6 x 11,5 m!) make it a very unique artwork in the field of contemporary artistic creation.
On a old theatre decor curtain representing an abandoned town of the Far West, the artist has painted a series of symbols representing different forms of apocalypse: signs of various predictions of the end of the world of which the one planned by the Maya calendar in 2012, mortal illnesses, gurus of sects, predatory economies, terrorists, etc. The symbols seem to be escaping from the central orifice to colonise the entire surface of the canvas like insects. The use of gold paint gives them a precious aspect that is a reminder of religious painting.
The Friends of the CAPC started a widespread public subscription, giving everyone the possibility of contributing to this exceptional purchase. With the support of the artist and his gallery, the City of Bordeaux and the Friends of the CAPC were able to purchase this major artwork, in order for it to become part of the museum's collection.